Outline of facilities
Integrated convention Facilities,' Toki Messe '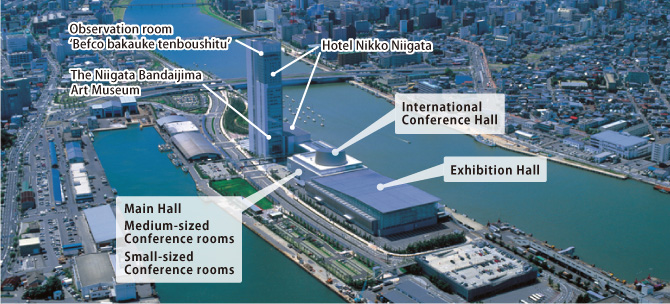 Located at the mouth of Shinano-river, in the heart of Niigata city, Toki Messe opened in 2003. The facility integrates exhibition hall capacitates more 10,000 people, 13 large sized and medium sized conference rooms, and the hotel, which is the landmark in Niigatacity. A Conference, a party, and accommodation, everything comes into only one space.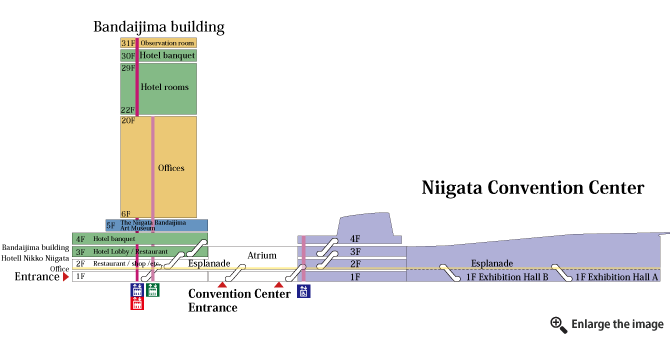 Exhibition Hall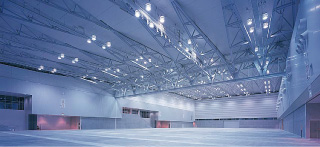 Exhibition Hall area of 7,800m2 makes it possible for various large scale events to be held. With its expansive,pillar free area,average ceiling height of 22m, and 10,000 person capacity,this exhibition hall is perfect for trade fairs, large scale ceremonies, meetings, etc.
International Conference Hall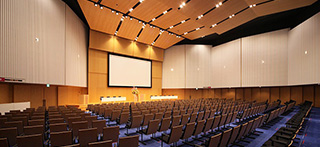 This halls refined design and technologically advanced equipment help produce meetings. The marine blue carpet in this room symbolizes the blue of the Japan Sea. This circular hall has superior acoustics based off its design and is perfect for international events, business meetings, and lectures. In addition, you can utilize the foyer and the special drawing room, both of which have a beautiful view of the port.
Main Hall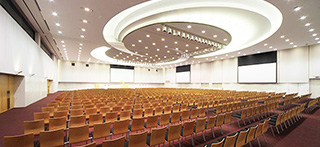 This hall, with its superior sound insulating properties and 1,000 person capacity, is perfect for ceremonies and receptions. The white walls of this hall represent the famous snowfall of Niigata. Because of its superior sound insulating properties, this hall can be partitioned in two.
Medium-sized Conference rooms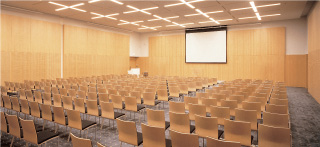 The rooms can be used for various activities, including meetings, seminars, and lectures. Perfect for lectures and seminars of up to 200 person.
Small-sized Conference rooms

Perfect for conference workshops, small meetings, and use as a waiting room. Small-sized conference rooms are equipped with movable desks with wheels and lightweight chairs to make the layout freely.
Atrium / Esplanade

The main entrance to Toki Messe,the atrium, with its high ceiling and glass windows from ceiling to floor, makes a wonderful resting and meeting location, as well as a registration area and a place for event openings. The Esplanade is a 340m-long, all weather public walkway that connects the various facilities of Toki Messe. Magnificent views of the Shinano River and seasonal flowers make the Esplanade a perfect place for visitors to relax, as well an ideal location for a reception area and lounge during events.
TOKI MESSE ART MONUMENT

Fine artists that are representative of modern art today specifically created the art work in and around Toki Messe with both the artwork's location and the concept of the beginning of the 21st century in mind.